New European Innovation Agenda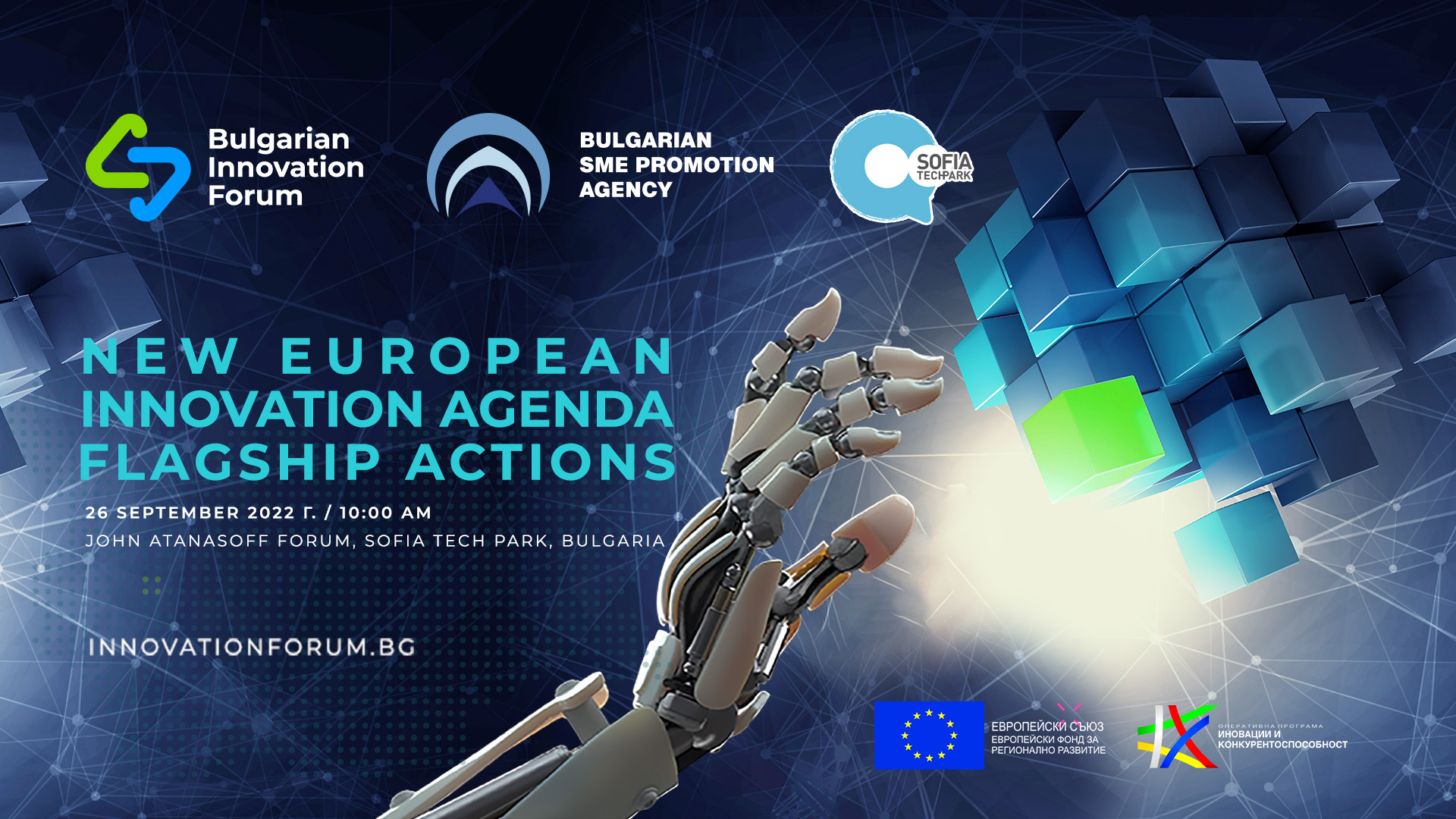 Bulgarian Small and Medium Enterprises Promotion Agency (BSMEPA) and Bulgarian Innovation Forum (BIF) invite you to the presentation of the New European Innovation Agenda. The event will be held on September 26, 2022 (Monday) in "John Atanasov" hall of Sofia Tech Park.
The adoption of the New European Innovation Program is a turning point for science and innovation in Bulgaria and the region. It aims to connect local ecosystems for innovation, job creation and support for start-ups to realize their full potential.
The purpose of the event is to increase awareness and activity of the Bulgarian innovation ecosystem.
In the opening panel we have invited Commissioner for Innovation, Research, Culture, Education and Youth, Maria Gabriel, as well as leaders of leading initiatives from the New European Innovation Programme To present the Bulgarian vision, we have also invited ministers, business representatives, academics, local authorities, non-governmental organizations, investment funds and associations.
Hourly Schedule
26.09.2022 г.
9:30

-

10:00

Registration
10:00

-

10:15

Opening speech
10:15

-

10:30

Keynote speech by Ms. Mariya Gabriel, Commissioner for Innovation, Research, Culture, Education and Youth
10:30

-

10:45

Mr. Alexander Pulev, Minister of Innovation and Growth Mr. Sasho Penov, Minister of Education and Science Mr. Boyko Takov, Executive Director Bulgarian SME Promotion Agency
10:45

-

11:00

Inspirational speech

Ms. Angela Ivanova, Co-founder LAM'ON
11:00

-

11:15

Bulgarian Innovation Forum: Support mechanism for Bulgaria to take full advantage of NEIA by BIF Steering Committee members

Ms. Monika Stanisheva, President of Board of Directors of Dir.bg Ms. Kristina Eskenasi, Chairwoman of Health & Life Sciences Cluster Ms. Mariyana Hamanova, Executive Director of Cleantech Bulgaria Ms. Milena Stoycheva, CEO of JA Bulgaria; Board Member of EFFF (European Female Founders Forum)
11:15

-

11:30

Coffee Break
11:30

-

12:15

Panel 1: Acceleration and commercialisation of innovative ideas

Moderator: Ms. Milena Stoycheva, CEO of JA Bulgaria; Board Member of EFFF (European Female Founders Forum) [Opening]: Student Company Solar Stickers JA Bulgaria; [Flagship 1]: Improve access to finance for EU start-ups and scale-ups; Mr. Keith Sequeira, Board member EIC; Mr. Ivan Vasilev, Policy and Strategy Director at BESCO - The Bulgarian Startup Association, member of European StartUp Network; Ms. Maria Marinova, Executive Director, BVCA - Bulgarian Venture Capital Association; [Flagship 2]: Enabling innovators to experiment with new ideas; Mr. Adam Rottenbacher, COO of EIT; Ms. Mariyana Hamanova, Executive Director of Cleantech Bulgaria; Mr. Radoslav Georgiev, co-founder and CTO, GTMHub
12:15

-

13:00

Panel 2: Fostering innovation

Moderator: Kristina Eskenazi; [Opening]: #HAckTUES; [Flagship 3]: Regional Innovation Valleys; Mr. Andras Inotai, Head of Unit Innovation Policy and Access to Finance Directorate General for Research & Innovation; Prof. Dr. Mariana Murdjeva, Rector, Medical University Plovdiv; [Flagship 4]: Fostering, attracting, and retaining deep tech talents; Antoaneta Krasteva, Director, Directorate-General for Education, Youth, Sport and Culture; Lubomir Stanislavov, Executive Director of BRAIT; [Flagship 5]: Improving policy making tools; Bogdan Bogdanov, Executive Director of Invest Bulgaria Agency
13:00

-

13:15

Closing remarks and Networking